The Casio CDP-S350 is a new model of the CDP-S series with outstanding sounds and rhythms, and it is also equipped with new hammer action and a new loudspeaker system. In this Casio CDP-S350 review, I will try to show you why this might be the one you are looking for.
DESIGN
---
The Look
The design of the CDP-S350 looks nice with that black color matt.
Also, the CDP-S350 is quite slim as well and very light that you can carry it anywhere you want.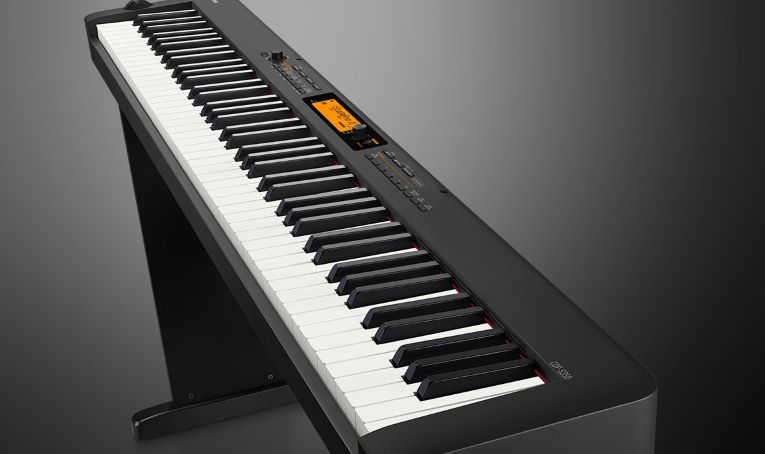 The CDP-S350 can be coupled with a CS-46 stand where you have to combine it and transform your keyboard into an upright digital piano. However the stand is optional
The CS-46 stand looks great with the CDP-S350, and I like the wooden structure look of it, and it is very stable.
As for the color, the CDP-S350 doesn't offer any color other than black. Not really a problem for me, but more choices would be nice.
Music Rest
The Casio CDP-S350 comes with a detachable music rest.
The music rest is quite slim and has a very nice clean look to it.
Also, the music rest is wide and you can easily display multiple pages at once.
Controls
The controls of CDP-S350 are placed on the top of the keyboard. If you count the button, it has 23 buttons, 2 knobs, and a power button. On the left side, you will find a bend wheel.
As you can see, the buttons are well labeled. It has an LCD display which makes it easy for you to see what sound that you play.
I quite like the old school physical buttons on the S350. The touch sensitive ones on the PX-S1000 looks awesome but I find them less reliable in a dim live stage senario.
Keys
The CDP-S350 comes with a full 88-key keyboard with sythetic ivory and ebony key surfaces.
These sythetic materials make the keys less slippery, and they also help with moisure absorption during long playing sessions.
There is also a red velvet lining at the end of the keys, which make it look nice and classic.
Size & Weight
The Dimensions of this piano is 32,2 (W) x 23,2 (D) x 9,9 (H) cm (52 1/2x 9 1/8 x 3 7/8 inch) and weight around approximately 10.9 kg (24.0 lbs)
The CDP-S350 has a Slim body just 232 mm in depth.
This version of Casio is smaller than the previous CDP series, and you can bring and play it anywhere you want.
KEY ACTION
---
The CDP-S350 is fully weighted with Scaled Hammer Action from Casio.
This is a newly designed key action from Casio to accomedate the compact size of the instrument.
The Scaled Hammer action simulates the feel of the piano, where the keys become lighter as you go up the keyboard and heavier in the lower hinges.
It also has touch-sensitive as well, where the volume will change depending on how hard or soft you play.
With this, you can adjust the level of touch sensitivity out of 3 preset settings
SOUND
---
The Casio CDP-S350 has 700 different sounds built-in, from keyboard instruments such as the grand piano, organ, and harpsichord to string wind and percussion instruments.
Any of these sounds can either be split across the keyboard or layered together.
It also has a library of 152 songs you can listen to or play with.
The CDP-S350 also contains a large bank of accompaniment rhythms, Unlike many instruments in its category.
Like from rock to jazz, from funk to waltzes, the CDP-S350 will analyze your left-hand placement and provide a drum rhythm, bassline, and chordal accompaniment.
All at your referred tempo and in your preferred idiom.
It is a great way to keep your development on the keyboard, and it is fun and an easy way to entertain others as you are learning.
The CDP-S350 also has a dual 8W built-in speaker system that is placed behind the piano, and it also has speaker grooves that are close to the keys.
I like the sound of the speaker because it produces a sound that is loud enough for casual playing or small performances in a living room.
FEATURES
---
What I like about the CDP-S350 is that it also runs with 6 AA-size batteries where you can put those batteries at the back of the keyboard.
This is great because in case if you want to go somewhere like in the garden or in the park, all you need is 6 AA-size batteries and put those batteries in and play.
The battery life runs approximately four hours of continuous operation on the batteries.
It also has a 1/8″ stereo Audio In jack where you can play MP3s or any other kind of audio through the CDP-S350.
You can use it as a listening source or a practice aid.
The CDP-S350 has a USB connection and a new 3.5mm Aux-In socket where you can listen, learn and play music from your smartphone or tablet.
This piano also has damper pedal input where you are going to connect your pedal and a Tri-pedal input.
The Tri-pedal input is optional, where you can plug in your pedal, and it will behave the same way as an acoustic piano.
On the other side of the back of the piano it also has a class-compliant MIDI USB where you can connect it to your computer.
Also, the CDP-S350 has an app where you will get the most out of the CDP-S350.
That app is the Chordana Play app. It is a free app that gives you direct access to all piano functions and a play-along feature with over 200 songs built-in.
The CDP-S350 comes with an onboard LCD for quick control to keep you in command, but when you want to dive a little deeper, the Chordana Play app is the perfect companion.
Inside the app is a remote for the piano with control of various functions, the ability to save settings, and sync control between the app and compatible devices.
The real fun is in the Chordana Player feature, where you can play along with over 200 songs with a waterfall MIDI style view that teaches you what keys to play and when.
You also can change the tempo if you want to slow things down for easier learning, or you can transpose the entire song up or down by one octave.
Download the free Chordana Play for Piano app, and connect via USB to your favorite iOS or Android device to make adjustments to your CDP-S350, as well as play your favorite MIDI files.
The CDP-S350's USB port is class-compliant, and can also connect to any Mac or PC with no drivers or installation needed.
You can also save your performances to USB flash drive.
The CDP-S350 also has a MIDI recorder where you can record up to 5 songs, each with 6 tracks.
Playing back these recordings can be helpful in lessons or other situations.
Here are the features that the CDP-S350 has.
Keyboard
Number of keys: 88 Key
Action: Scaled hammer action
Key size: Full
Aftertouch / Velocity: Velocity Sensitive
Sounds
Voices: 700
Polyphony (max): 64
Connectivity
MIDI connectivity: USB
Line output: Not specified
Line input: Stereo mini
USB Connectivity: Device & Host
Headphone jacks: 1
Pedal inputs: 1
Storage type: Internal, external
Onboard Features
Recording/Playback MIDI record
Display: Backlit LCD
ACCESSORIES
---
As you already know that the CDP-S350 comes with a detachable music rest where you can use anytime you want depends on your liking.
As for the damper pedal the CDP-S350 comes with a sustain pedal. It is a binary footswitch that can only detect on/off. It does not support half-pedaling. This would be the first thing I update for this piano.
You may need a USB cable to connect the CDP-S350 to your phone for the Chordana app or your computer.
The stand however it will depend on the bundle you choose.
External speakers/monitors are good addons to the CDP-S350.
Last but not least, a pair of high quality headphones is always recommended for any digital piano.
WHO IT'S FOR
---
The Casio CDP-S350 is designed for people who are professional, and reqires tons of versitilities on stage.
It looks really good in a minimalism style room, and it is packed with features that I am sure that you will love it.
However, if you are looking for a digital piano to play and practice piano, I don't think that this piano is the right choice.
The S350 should also be avaided if your only focus is piano. Not only would you be paying for hundreds of sounds that you won't use, there's also other compromises, like the limited polyphony number.
CONCLUSION
---
The Casio CDP-S350 is packed with functionalities and features. With its price, it offers excellent value and I can always recommend it.
For giging musicians, this is a model that can not be overlooked.
---
Leave a comment to let me know what you think of this review. And if you happen to have some experience with the Casio CDP-S350, please share with us in the comment below.