The Kawai ES920 is the best digital piano in its price range with an impressive set of features. Usually the higher the price, the better the product. Kawai has debunked this notion with the introduction of its ES920 digital piano.] meta description
The Kawai ES920 replaces the ES8, which in its own right was classified as a top range digital piano under US$2000.
But how do you make a great piano even better? Kawai was surely on a mission to outdo itself, and I am happy to see that they did just that with the ES920. Simply put, the ES920 is the ES8 on steroids.
It can be quite difficult to find an affordable digital piano that will give you the perfect tone, sound and functionality that high-quality portable pianos have.
By keeping some of the ES8 features like the impressive key action, digital piano sound chip, and pedaling functionality, and improving the technology, the Kawai ES920 is really good value for money.
The Kawai ES8 spent most of 2020 sold out, I am positive that the Kawai ES920 will have a similar response.
So let's get started on this review and I will show you why I believe the ES920 will be just as popular, if not more.
DESIGN
---
The look
The new Kawai ES920 has been completely redesigned with a new contemporary look. The design is stylish and elegant with rounded edges unlike the previous model.
The finish on the control panel and the surface of the entire piano is smooth and definitely appealing to the eye.
The buttons and sliders have a nice feel to them, which is something that you would typically find on more expensive pianos.
The optional stand and triple pedal fit well with the overall look of the piano. By reducing the weight, Kawai has made the ES920 more performance friendly, you can easily pick it up and move it around.
The lightweight feel is also because of Kawai using plastic in the construction of the ES920.
One thing that I am still looking for improvement from Kawai is the user interface of the display.
It is still pretty basic with an OLED monochrome look which I think is dated. Other than that you have a stylish but understated overall look which is to be expected from a Kawai. Models are available in smooth black or white finish.
Music Rest
The music rest is a full size plexiglass rack that comes with the Kawai ES920. It is wide and sits high on the top of the piano and closer, making it easier to read the sheet music as you play.
The bottom is angled so it can hold your music more securely, minimizing the risk of your sheet falling or slipping. Overall, this is a significant improvement from the Kawai ES8 that featured a basic metal music rest.
Control
True to form, Kawai, stuck to its minimalist design for the control. As I have stated before, I am not a fan of the monochrome screen display, I really believe Kawai can do better in this department.
Other than that, the control panel is very simple and user friendly. The buttons and sliders are easy to control and the placement has been well thought out.
They feature blue on and off indicator lights that will help you navigate some of the ES920 functions and features.
The panel is divided into two levels, which concentrate all the controls around one general area.
This is great for live performers, as you will not be rushing across the length of the piano to switch on or off some features.
The control design is simple, easy to navigate and will not overwhelm beginner players.
As with all new digital pianos, it will take a bit of time to understand and navigate through all the functions and features.
Your user manual will come in handy, but it will not be a difficult process.
Keys
One of the best features on this model is the full set of 88 fully weighted keys and the highly authentic Responsive Hammer III keyboard action.
Kawai used their trademark simulated ivory and ebony key tops that give a slightly textured feel which stops your fingers from slipping when you are playing.
It is designed to absorb as much sweat from your fingers as possible and it is easy to clean.
Size & Weight
The Kawai ES920 is fairly portable. It weighs only 17.0 kg (37 1/2 lbs.) and it measures 134 cm (52 3/4″) wide, 14.5 cm (5 3/4 ") high, and 37.5 cm (14 3/4") deep.
KEY ACTION
---
The shining glory of the Kawai ES920 is the key action. This feature alone brings it in competition with digital pianos that are in a much higher price range. This makes it one of the best affordable digital pianos in 2021.
The Responsive Hammer III keyboard action built into the ES920 is a fantastic sensor technology, and I would rate it as the best in the current market.
It simulates a real acoustic piano, giving you a bit of resistance as you get to the bottom of the travel of the key.
The sensor technology allows the keys to move very quickly but with a certain gracefulness in the response.
This makes your playing movements almost fluid-like and adapts to whatever style of playing you choose.
Soft pianissimo or loud fortissimo it makes no difference, you will get buttery flexibility and movement from the keys.
The key action on the Kawai ES520 is very easy on the hands and allows for longer playing time without fatigue. Nothing in this price range comes close.
SOUND
---
As a top of the range digital piano, the Kawai ES920 has one of the most sophisticated and acoustic piano-like tones in the market. The sound chip is more authentic than any other digital piano in its range.
I know that sound can be a pretty subjective matter and how good a digital piano sounds can be different to players.
However, I find that the Kawai ES920 has a pretty decent sound quality across the board. Kawai used Harmonic Imaging XL technology to improve the piano's ability to articulate the natural resonances on each note, just like in an acoustic piano.
You can expect to find some additional sound tonal elements such as cabinet resonance, hammer noise, and undamped string resonance.
Kawai was able to capture its signature SK-EX Concert, EX concert grand piano and medium-sized SK-5 Studio grand piano sounds perfectly.
What you have here is a digital piano that does not have an artificial or sharp-sounding tone which you will find in some pianos in this range.
An additional sound feature that I love is the Kawai ES920 graphic equalizer slider that you can use to change the tone of your piano, giving you control of how you would like your digital piano to sound.
The new graphic EQ system with 4 separate sliders allows you to instantly change the frequencies of the piano sound.
And of course it carries the split keyboard function and the Virtual Technician features where you can edit and adjust certain sounds according to your preference.
All this sound is amplified by powerful two (8 x 12) cm speakers with a combined output power of 40 watts. You will get a rich and complex sound out of the Kawai ES920.
FEATURES
---
Making music and recording with the ES920 is a pretty awesome experience. It has 38 instrument sounds and 100 drum rhythm patterns, giving you the option of being a one-man band.
The special effects on this model are very impressive. Do you want to make the sound richer?
No problem, the reverb-echo settings will give you an excellent lush piano sound. There are so many ways to adjust, tweak and change the tempo, tone and sound of the ES920, the possibilities are endless.
The recording feature is pretty cool too. Regardless of your playing level, having a recording feature on your digital piano is a plus.
The Kawai ES920 has a 2-trace MIDI recording feature that allows you to record both the left and the right parts separately. Y
You can also individually record any of the accompanying music, such as the base or the drums. It can save the songs as an MP3 or WAV file.
The connectivity features are great and the wireless Bluetooth MIDI connects you to apps and other devices with no messy cables.
You can use this function to read music, audio stream, and add more sounds to your collection. You can also practice and play in complete privacy through headphones that have headphone optimization technology.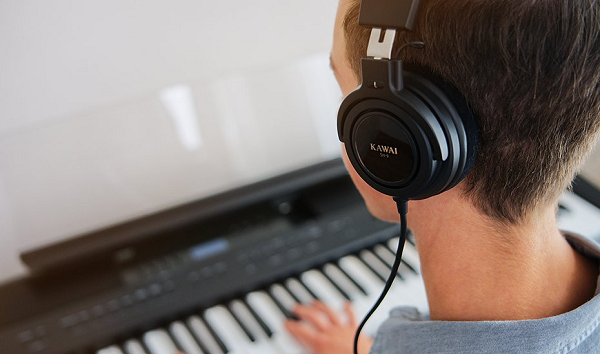 Other Features:
Sounds: 38
Polyphony: 356 notes
Drum Rhythms: 100 patterns
Virtual Technician: (21 parameters)
Touch Curve (incl. User Touch Curve)
Voicing (incl. 88-key User Voicing)
Damper Resonance
Damper Noise
String Resonance
Undamped String Resonance
Cabinet Resonance
Key-off Effect
Fall-back Noise
Hammer Noise
Hammer Delay
Topboard Simulation
Decay Time
Release Time
Minimum Touch
Stretch Tuning (incl. 88-key User Tuning)
Temperament (incl. User Temperament)
Temperament Key
Key Volume (incl. 88-key User Key Volume)
Half-Pedal Adjust
Soft Pedal Depth
Reverb: 6 types
Modes:
4-band EQ faders
Dual
Split
Four Hands
Transpose
Tuning
Registration
Startup Setting
Internal recording: Up to 10 songs
Connectivity:
MIDI in and out
Line out: 1/4″ L/MONO, R [unbalanced]
Line in: 1/8″ Stereo [unbalanced]
USB to Host
USB to Device
2 headphones
Damper (for F-10H)
Damper/Soft/Sostenuto (for GFP-3)
Pedal (for F-302)
Speakers on/off switch
ACCESSORIES
---
The Kawai ES920 comes with a music rest, power adapter, and a F-10H damper pedal (with half-pedal support). The pedal also supports half-pedaling unlike in other brands.
You can buy at an additional cost the GFP-3 triple pedal unit as well as the HM-5 designer stand or the F-302 Grand Feel pedal bar, which are all compatible with the Kawai ES920. Kawai offers the SC-1 padded gig bag for purchase.
WHO IT'S FOR
---
The Kawai ES920 is such a versatile instrument. Its simplicity makes it great for beginners, and so does the hammer action keyboard.
If you want to build your skills and grow with your piano, this is a great purchase because it can adequately manage your transition from a beginner to a more skilled player.
Professionals will also love this piano because of the ease of play from the key action and the quality of the sound and features that it has. Basically, the Kawai ES920 is everyone's best friend.
CONCLUSION
---
Price wise you will not get a better deal but more than that, this digital piano has a lot of quality features to offer.
I have no reservations about purchasing the Kawai ES920, as far as digital pianos go, this hits the mark in so many ways.
The only challenge will be how to get my hands on one because they are bound to be sold out pretty much everywhere.
PRICE AND AVAILABILITY
---
---
Feel free to leave a comment, I would love to know what you think about the Kawai ES920. If you have some experience with the instrument, I would love to hear that too.