There are a myriad of reasons why you would be interested in finding the best free piano lessons online. Perhaps you took some lessons when you were younger or maybe you'd like to rekindle your love or upgrade your skills. Or maybe you've never played and you want to learn how to play?
Regardless of your reasons, learning how to play the piano is always a great idea. There are several ways to do it should you decide to get your piano figures wagging. Traditionally in-person lessons were always the go to. However, these can cost money and require an enormous time commitment.
Online piano lessons are a great way to get around this problem. You might be familiar with online lessons but aren't sure where to start or whether they will work for you. This guide will answer these questions for you.
We have put together 12 of the best online piano lessons in 2021 that you can choose from. But before we delve into that, let's start by discussing what you need to consider before you choose an online method that works for you.
What to consider before you begin free online lessons
1. Assess what you need
Before you start frantically searching for the first online piano lesson and signing up, there are certain factors that you need to think about.
You need to pick a piano learning method that works best for you and your lifestyle. The best way to approach this is to give it the same importance you would to find a piano teacher. Concentrate on what you need to get out of playing the piano and what you want to achieve.
The following questions are what you need to answer;
What kind of lesson style works best for you?
Will it allow you to practice and play along?
At what pace do you want to learn?
These questions will point you in the right direction so you can pick an online piano lesson that best suits you.
You will also need to factor in the type of music you want to play. Are you into classical or modern music? It's best to start your piano lesson in a genre that you enjoy. This will help you pick up what you learn quickly. Know what you like and stick to it until you are comfortable to venture into other genres.
The next thing to think about is the type of music theory that works best for you. Do you have a basic understanding of music or do you need to start from the very beginning? Additionally, you need to factor in the kind of feedback that you require from the lessons that you choose.
Lastly, you should factor in how much time you need to spend training your ears. They play a huge role in learning how to play the piano. Your listening skills need to go beyond just hearing the music. An excellent pianist is able to actively listen to the sounds the piano is making. This skill will elevate your piano playing.
2. Examine what each platform brings
The online platforms that we will look at today bring different things to the table. Specifically, you need to assess the following:
Price– yes, this article is about the best free piano lessons but some online platforms offer both free and paid lessons.
Features– what built-in features does the platform offer? Does it come with sheet music? Does it offer feedback? Can it synchronize with a digital piano?
Song catalog– how extensive is the song selection? Is it diverse enough?
User friendliness– how easy is it to use the platform? Does it cater to all skill levels or is it better for people who have a bit of piano knowledge?
It will mostly be a trial-and-error process for you before you figure out what works best. It is always important to assess your piano goals before you commit to taking any lessons. The most important thing when choosing an online piano lesson is to factor in your lifestyle.
There is no point in over committing if it's going to make your life difficult. If you struggle with self-motivation, then an online course might not be the best fit for you. You could benefit more from a more structured approach, whether it is an in-person one-on-one lesson or an online one.
Now let's see which online resources you can choose to begin your piano journey.
Best Free Piano Lessons Online
1. Top 10 Classical Piano Pieces for Beginners by Udemy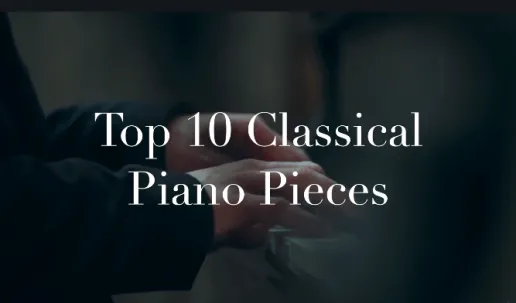 Udemy is a wonderful online platform that offers several free piano lessons. Dan Hegelund, who is an expert musician, composer, producer, and vocal coach, teaches this specific course. He has played all over the world and has a number of compositions available for purchase online.
He designed this course to cater to the students who have an interest in classical music. It is a superb choice for beginners because you get to learn the proper techniques. It also includes a beginner level lesson on how to read and understand the chords, scales, clefs and notes.
The course is taught for a total of 12 weeks and requires 4-5 hours a week. As stated before, the foundational lessons begin with information about notes and other piano basics. After this you will move on to learn classical compositions like Minuet in C, Allegro and many others.
The teaching style comprises video lessons, several resources you can download for practice, a Q& A, some discussions and a certificate upon completion.
2. Youtube
There's nothing you can't find on Youtube and that includes free piano lessons. Youtube is wonderful if you are looking for extra practice. It is not so good if you want to develop real playing skills. Another major drawback of using Youtube is that you cannot get immediate feedback.
So, only use Youtube as a way to practice what you're learning from a more structured online or in-person course. We do not recommend it as a substitute. The following channels offer the best free piano lessons. They will help you get a good grasp of piano playing basics.
While you might have to pay to get access to the full course, the Hoffman Academy Youtube channel has several free videos on Youtube.
The academy offers a very traditional route to learning piano. It has lessons for both children and adults. You can expect to learn everything there is to know about playing the piano. They teach music theory, sight reading and technique. If you've set your sights on playing professionally, this is a good online resource for you.
This channel is one of the best on Youtube. There are over 100 videos that cover topics for beginners and intermediate players. The owner of the channel Josef Sykora has organized the videos into playlists, so navigating your way through the lessons is fairly easy.
The lessons offer a bit of structure and the videos are quite professional, mirroring many of the paid online platforms. The lessons include topics on scales, finger exercises, rhythm and more. The focus is more on playing popular music with sheet music to accompany the lessons.
The free videos are quite good and easy to follow even for beginners with no piano knowledge. We did, however, notice a few issues with the lesson style. There is no emphasis on music theory and he doesn't really teach you how to read music. Additionally, there is no lesson progression, so you aren't able to gauge your playing level.
This channel offers a more comprehensive approach to learning piano. It is great for beginners who still need to know the basics of piano playing. The first few lessons focus on learning how to play the piano and teach the basics of music theory.
There are many videos available for free that cover fundamentals such as rhythms, ear training, posture and so much more. The lessons are also arranged into playlists and there is a clear lesson progression. The focus is on reading classical sheet music and learning the proper techniques.
3. Introduction To Piano For Beginners by Skillshare
Skillshare is an awesome online resource with some of the best free piano lessons. If you are not too keen on learning how to read music, then this course is perfect for you. It comes as a 2 month free trial which you can opt out of after the trial period.
The course overlooks reading sheet music and uses an alternative 'shapes' method of learning. It jumps right into the techniques of playing piano and has several resources for you.
The instructor is Simon Glenister, a professional musician and music teacher with over 20 years of experience. He focuses on this easy method to teach piano to individuals who struggle with learning from sheet music.
The course begins with a 1 1/2 hour lesson for beginners and the lesson topics range from understanding chords to strengthening left hand techniques. At the end of the lesson, Simon gives you several compositions to practice.
The class comes with extra resources that you can download. It also includes class projects and group discussions so you can bounce off ideas with thousands of your classmates.
4. Learn Piano in 30 Days by Skillshare
If you want to take a more practical approach to your piano playing, then this is a good program for you. The lesson focuses on ear training, learning chords and composing. It will teach you how to use both your hands.
Mark de Heide teaches the course, he is a musician with experience in teaching. Over 15,000 students have passed through his skilled hands and he's had very good reviews.
There are over 7 hours of videos catering to beginner and intermediate players. It will teach you about scales, chords, progressions, combining hands, song structure and playing by ear. You will also get access to the many resources available on Skillshare such as class discussions. There are also class projects, downloadable resources and Q&A with the teacher.
5. Piano Lessons For Absolute Beginners by Udemy
If you are a complete novice, then this is an excellent program. It is perfect for absolute beginners and it covers topics such as notes, chords, reading sheet music and keys.
The course is taught by Mantius Cazaubon who has over 20 years of experience. There have been thousands of students who have learned how to play the piano using this course. He is a talented musician that will help you learn the basics. You will also learn about white and black keys, sharps and flats, half steps, whole steps and keyboard layout.
You get access to downloadable resources, class discussions, projects and a certificate of completion after you finish.
6. Pianonanny
This website has been giving some of the best free piano lessons since 1994. It caters to beginners, intermediate and advanced players.
You have access to 9-13 lessons at each level. The lesson style is text-based and includes audio and images that show you how to play and use the proper techniques. The beginner courses are designed to teach music theory, reading sheet music and playing techniques.
You will only get to play actual songs after lesson 8. The approach is to learn first and then play. When you reach the advanced stage, you will move away from music theory and focus on playing techniques.
It is a very comprehensive program that is suited for all levels. If you want to be a professional player, then this course is perfect for you. We love that it teaches you music theory in-depth; you get to compose your own songs and develop that skill. For this reason, we think this program is more suited to adults and not children, mainly because of the lack of fun visual features.
Another major drawback is that you might need to source out more playing pieces from external sources. Overall however, this is a wonderful resource if you're interested in learning music theory.
7. Piano Online Piano Keyboard
For a more casual approach to piano playing, this is one of the best free piano lessons websites you can use.
The lessons are more relaxed and they feel like you are playing a game. It is one of the first websites that teach you how to play piano interactively. It uses a real keyboard that you can access online.
As you progress, you get merit badges that give you access to more levels. This allows you to track your progress, and each level works on different aspects of playing the piano. For example, some levels require you to practice using your right or left hand. Some will challenge your use of both hands as well as your knowledge of scales, arpeggios and many more.
It is an awesome tool for absolute beginners or children who need stimulating and fun ways to learn the piano.
8. TakeLessons Live
If you are more interested in a one-on-one interactive session, then you might want to give this website a chance. This type of lesson is also great if you live in a remote area.
The lesson style features a live teacher who will show you the proper technique of playing for free. They will give you feedback, answer your questions and correct any mistakes in real time. You have the benefit of learning from an experienced teacher in the comfort of your own home.
You are free to take as many classes as you desire without paying for them. Some topics that you can expect to be covered include; reading music, understanding and playing chords and learning scales for beginners.
If you are looking for a more structured process for your learning, this is it. This course allows you to track your progress and gives you a firm piano theory foundation.
9. Learn To Play Piano With Free Piano Lessons by Pianolessons
Jordan Leibel and Lisa Witt designed this course, both have extensive experience in teaching and playing music.
The lessons feature several instructive videos that cater to beginners and those who need a refresher course. They cover topics such as time signatures, scales and chord inversions. There are several popular song categories to choose from.
The site also offers extra resources for those that are interested. You can chat with the instructors and your fellow students on social media platforms.
Apps with the best free piano lessons
There are so many piano apps that you can download both for iOS and Android softwares. These apps are great for practice and you can whip out your device anywhere you go.
The one thing to remember though, is that most apps have very little content on music theory and other fundamental piano basics. Most of them are just a fun way to practice and sharpen your playing skills. We can classify them as games because you get little real life piano playing skills.
There are exceptions to this though, certain apps are actually linked to some of the best free piano lessons that you can find online. These include Flowkey, Skoove and Simply piano. They are mostly free but you will need to pay to have full access to all the content.
The apps below are a fantastic way to supplement your piano playing skills. The free versions usually concentrate on one of two aspects of playing the piano.
10. Online piano lessons that really work by Flowkey
This app is linked to and recommended by Yamaha. It is a very interactive way to learn piano. The advanced technology makes it fairly easy to learn some of your favorite tunes. You'll get immediate feedback and access to certain features such as finger placement guidance.
There are 10 beginner level lessons that you can explore at your own pace. The topics range from right and left hand playing to chords and reading sheet music. If you have a Yamaha digital piano, then this app will be the perfect supplementary companion for your musical journey.
Flowkey is a very popular app that has been downloaded millions of times. The website includes helpful tools that you can use to advance your skills.
11. Skoove Online Piano Lessons
Skoove is still relatively new on the scene but it has some awesome features. The lessons on Skoove cater to players of all levels. The only disadvantage is that it is available for iOS users only.
Once you download it on your device, whether it is a phone, tablet or laptop, you can use the simulation keyboard to learn how to play. This is great if you are not planning on getting a physical piano or keyboard.
However, there is no focus on music theory or learning proper music techniques. The app is more suitable for beginners who want a casual learning experience. The display shows you notes as well as an actual piano player who plays along to the song.
These video lessons help if you are a visual learner. You'll get to develop a sense of timing on your own without an actual teacher telling you. The app has an awesome feedback feature that offers personalized advice and encouragement. This feedback is crucial because it helps you to see where you are going wrong and what you are doing right.
It's great that the app doesn't let you learn in a vacuum unlike on Youtube. The song selection is more geared towards modern music. There are no classical songs, so from your very first lesson you are learning how to play popular songs that you are familiar with.
Skoove also features a function where you can play along with a band after each lesson. But before you reach that stage, you will have to go through some practice sessions before you get to play with the band. This is a great lesson strategy because it means you won't be overwhelmed and you can easily track your progression.
The interface is very user friendly and there are 25 beginner level lessons when you download and use the free version. If you are interested, you can upgrade to the paid version which will give you access to over 400 lessons. Both the free and paid versions will teach you hand positioning, playing by ear and so much more.
12. Perfect Ear
If you want to sharpen your aural skills, then this app is a superb choice. Perfect Ear is designed to help you develop your listening skills and your internal sense of rhythm. Both are essential skills if you want to become a professional piano player.
The app features exercises such as:
Identifying intervals
Rhythm clapping
Rhythm imitation
Chord and scale identification
Solfege exercises
The app has access to your device's microphone and listens in while you play. It records your sessions and keeps track of where you need to practice more. This app is a great addition to your musical resources because the majority of online lessons ignore this aspect of playing.
You can download Perfect Ear on both iOS and Android.
Free versus Paid lessons
So now that we have reviewed some of the best free piano lessons online resources, you might be wondering what the difference is between the free versus the paid lessons.
If you were to speak to piano experts, they would argue that the traditional in person one-on-one lessons are the best. There are so many advantages to going the traditional route that you just won't get with online lessons. One of these advantages is that you can get a personalized approach to your learning, which you won't get with most online lessons. That said, not everyone wants to take that direction so when it comes to online lessons, which one is the best?
When we compare the two, paid lessons come out on top for a number of reasons. Firstly, they are more structured than free lessons, which tend to be all over the place. It can be hard to track your progress if you have no idea where you started. Secondly, most paid lessons come with teacher support and you have access to more content.
Lastly, most free lessons lack certain key aspects in their teaching. On Youtube, for example, the focus of most videos is on how to play specific songs. There are no musical concepts attached to the lessons. This is not a good approach if you are looking to play professionally.
Last word
We hope that our guide was comprehensive enough to give you clarity on how to choose the best free piano lessons. While they might not offer everything that you need to become a better piano player, free online piano lessons are a good way to start your journey. 
Leave a comment to let me know what you think of this post. And if you happen to have some experience with the Free Online Piano Lessons, please share with us in the comment below.