Pianos make music better and The Casio Privia PX-560 is truly a game changer. Launched in 2015, PX-560 belongs to one of Casio's most popular piano lines, the Privia Line. The Privia Line won 2015 MMR Dealer's Choice Award as the Pro Digital Keyboard Line of the Year. The PX-560 is not only the best model in that line, it is also one of the best piano model on the market in its class. Join me in this Casio Privia PX-560 review to find that makes this model special and unique.
DESIGN
---
When compared with similar products on the market, you will realize that the PX-560 is a beauty of great simplicity. Designed to be bright and standout, its weighted keys feature white natural-tone keys with black half-tone keys shuffled in-between; and it is enclosed by black and blue-colored plastic, to complete a conspicuously-looking piano.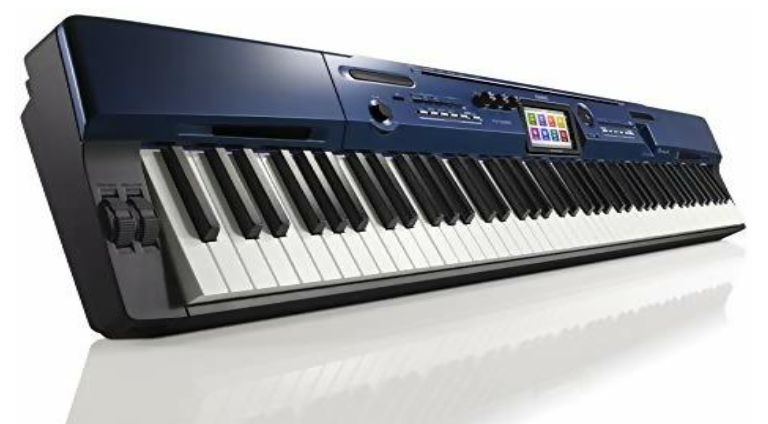 Although you may not find it to be as solidly built as those constructed with metals, you're rewarded with a super-light piano because of its durable plastic used.
You can pair it with the wooden music stand, designed to provide maximum support from the sides. PX-560 also features a furniture-styled bench. Although not the most beautiful piece of furniture, it easily blend with your home decor when installed and it does its job well.
PX-560 features a centrally-placed music rest, that is wide enough for you place your music sheet and read comfortably from it at a convenient angle. It may not be as wide as those seen in PX-S1000 and PX-S3000, but you can still be able to layout multiple music sheets for display at once.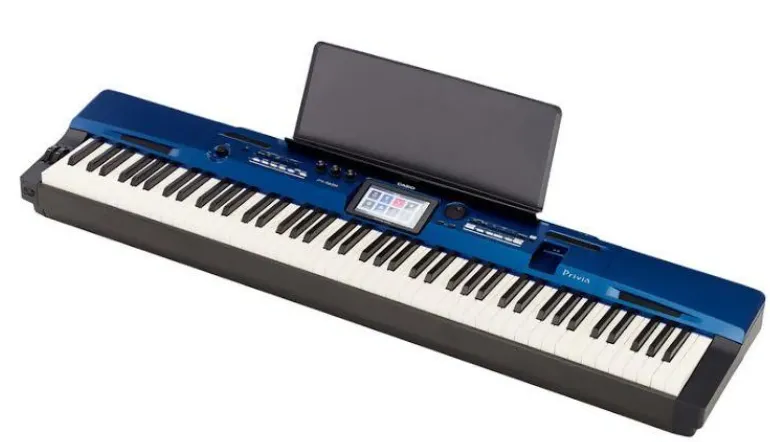 Controlling and managing sound production in this piano comes with great ease. And one of the few features you will enjoy in your PX-560 that you will definitely not see in other digital pianos in its class, apart from PX-360 of the same line, is the color touchscreen that is able to display several lines of texts at once. When you compare this feature with the LCD display found in PX-3000, that can only display three lines of texts, it won't be surprising to you why it is the best in Privia line. Centrally placed on the keyboard, surrounded by several functional buttons, functional wheels, a volume knob, and 3 assignable knobs; this bright touchscreen is the pianos nucleus and exploration tool.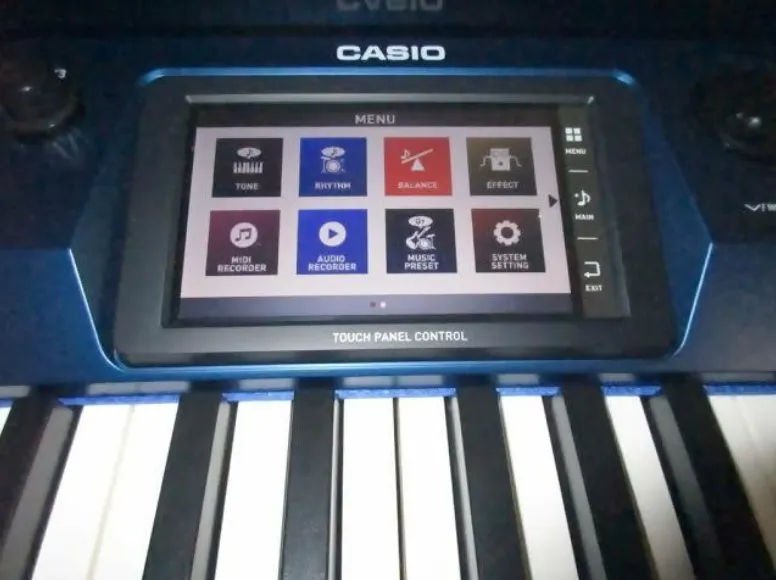 This 5.3-inch screen affords you to carry-out every programmable activity you're allowed to do with ease; and with this piano, you're able to make 96 configuration settings and make use of any of them whenever you require it. Believe me, the PX-560 is one of the most programmable digital pianos out there.
PX-560 features 88 fully-weighted plastic keys. These keys give a graded feeling as you move from left to right: the right keys being lighter to the feel than the keys on the left.
The realistic sound produced by this piano is as good as what you feel when you touch its ebony and ivory textured keys – a rare gem for its price. Piano keys coated this way make a pianist's fingers feel loved by the keys and the keys absorb excess moisture from those fingers – a great plus for a pianist during a long play and humid weather.
Built to be compact and portable, the PX-560 is of dimension 51.9 x 11.5 x 5.7 inches: a reasonable size for a piano as versatile as this. Although, compare to the 2019 new model the PX S1000/S3000, the PX-560 is significantly bulkier.
Although it may come in a 90 pounds box and it may require two or more persons to get the package into your home or studio; surprisingly, the piano itself doesn't weigh more than 26.5 pounds with its stand. This makes it lightweight enough for ease of mobility, considering a piano furnished with 88 hammer-action keys and four built-in speakers. It is always ready to accompany you on-the-go to blow away the minds of your fans at performances, all you need is the usual keyboard bag with adequate shock padding.
KEY ACTION
---
Like other members of the Casio's Privia Series, the PX-560 features Casio's Tri-Sensor Scaled Hammer Action II Keyboard that gives the impeccable response of high-end digital grand pianos to touch. Each keystroke produces sounds with great resolutions, projected to be about 127 times clearer than those of traditional keyboards, making it completely out of the league of many keyboards.
The PX-560 gives you total control of the touch sensitivity of its 88 graded hammer-action keys. On default, each of these tri-sensor keys gives a level of sound that corresponds to the force of your keystroke. In such a way that when you strike harder the keys produce louder sounds, and vice versa. You can decide to reduce this default touch sensitivity or increase it, depending on your choice. Moreover, you can let every keystroke give the same level of sound, no matter the force of your keystroke, by turning off the touch sensitivity feature.
The tri-sensor keys of PX-560 is, again, in contrast to the two sensors found in PX-1000 and PX-3000 models. One of the justifications for the extra dollar cost of this instrument.
SOUND
---
Another feature that PX-560 share with the other members of the Privia Series is the Multi-dimensional Morphing AiR Sound Source with 88-key multi-layered samples – a toast of complex song creators.
Apart from it featuring 650 built-in tones that gives you plenty of options that you may never finish exploring, you're also able to make about 400 tones yourself and store in its memory (the capacity of which is three times larger than those of other members of the series). Also, with Casio's Hex Layer technology and 256-note polyphony (found only in high-end digital pianos), song makers can make multiple splits and layers, as well as produce other complex sounds with ease. Enjoy built-in tones and create new tones by making use of its parameters, such as the Digital Signal Processing (DSP), Modulation Wheel, Volume Control Knobs, Pitch Bend, Band EQ, Envelope, and so on. You're also able to make your own rhythms as well.
Choose one of the tones and any of its 200 built-in rhythms and get yourself an automatic Band with about a dozen musical instruments – drums, strings, guitars, basses, grand pianos, synthesizers, and so on.
For your performances, its 1/4″ outputs and inputs comes in handy for necessary connection to Public Address Systems and multi-keyboard rigs.
Its built-in two 8 watt speakers suffice for home and studio use; and you're able to avoid disturbing your neighbors with the headphone jacks. You can as well get a better sound by connecting your favorite music player with the piano via its audio input channel. Beginners can closely follow the fingers of their tutors by dividing the piano keys into two equal pitch ranges using the Duet mode. This way, two people are able to play the piano without confusion and each player can separately record his/her sound using the classroom mode.
Create your own music with comfort, when you're in the mood, without missing any part of your lyrics by making use of the 16-track MIDI recorder or the USB audio recorder. With these features, you're able to incorporate any of the tones you have on your piano into your new song, add any external instrument via the audio input provided you by your PX-560, and create an audio file for your song.
Its touchscreen gives you access to every part and all features of this instrument and provides you with an impeccable tool that takes your power over your music to another level.
FEATURES
---
88-key fully weighted keyboard with simulated Ivory & Ebony key coats.

Tri-Sensor Scaled Hammer Action II

Touch Sensitivity.

5.3 inches Color Touch Screen, Casio Touch App.

Sound: Multi-Dimensional Morphing AiR Sound Source.

256-note polyphony.

650 built-in tones, 400 user tones, 200 built-in rhythms, 30 user rhythms.

Acoustic Simulator: Linear Morphing, Damper Resonance, Hammer Response, String Resonance, Key Off simulator.

Split, Dual, Duo (Duet Play) modes.

17 Reverbs, 16 Choruses, 6 Delays, 20 DSP parameters, 4-band EQ.

100 songs, 16-track MIDI recorder and Audio recorder (.WAV).

220 accompaniment styles, 305 music presets.

4 speakers with two 8W amplifiers.

Power consumption: 10W.

Power source: DC 12V.

Modulation wheel and Pitch bend wheel.
3 assignable knobs.
Connections:

2 Headphone jacks,

MIDI In/Out ports,

USB external storage port and USB port to device,

Line In/out jacks,

Audio In mini jack,

Damper pedal jack,

assignable pedal jack
3 years warranty on parts and labor

if registered with the company online

.
ACCESSORIES
---
Being a portable digital piano, the Casio Privia PX-560 comes with a binary foot-switch. It can only go on/off. For proper piano play, you will need a pedal that supports half pedaling.
There are many different bundles on the internet. I would encourage you to take some time compare what's included and their prices. Depending on your usage, you can mainly choose between a portable bundle and a furniture style bundle.
A good pair of headphones is always recommended for any digital piano.
You might also want to invest in a pair of speakers since the built in speaker on the PX-560 is not that powerful.
WHO IT'S FOR
---
No doubt, PX-560 is a versatile, portable digital piano that strikes a lovable balance between traditional acoustic pianos and the modern-day fully-digital pianos. Arguably the most versatile piano on the market, at its price. PX-560 is compact enough to serve your family at home, rugged enough to serve your group of vocalists during rehearsals in the studio, and handy enough for your on-stage performances.
Casio Privia PX-560 is truly a feature-packed media technology and will suffice for most pianists and potential pianists. Beginners, intermediates, experts, hobbyists, and enthusiasts will find this model of a piano handy. And since it was made by Casio, it is sure to stay with you for a very long time.
CONCLUSION
---
Surely, there are less costly alternatives available on the market; but such alternatives can never offer the same features that make PX-560 special and better.
Indeed, you will enjoy every penny spent on this piano. Nevertheless, remember that at the end, you've got to choose a piano that will fit your budget and, most importantly, judiciously serve your needs.
PRICE AND AVAILABILITY
---
---
Leave a comment to let me know what you think of this review. And if you happen to have some experience with the Casio Privia PX-560, please share with us in the comment below.