Yamaha is probably the most popular brand in the digital piano industry. Their entry level P45 has been praised by many. However, this budget segment of the market has been noticed by many manufactures and they have produced some strong competitors against the P45. In 2020, it does not get my recommendation. Read though my Yamaha P45 Review and find out why.
First introduced in 2015, the Yamaha P45 is not the newest model as of now.
Even after a few years since its launch, it remains very popular for beginners and some intermediate players. For the reason that it ticks all the important boxes with a very competitive price tag.
There is an Amazon exclusive version of the Yamaha P45, which is named P71. They are 100% identical.
Therefore if you are shopping for the P45, don't forget to check the price of the P71.
DESIGN
---
Being an entry level digital piano, we wouldn't expect too much from the P45 in the area of its design.
However, there're quite a few things that we like about this versatile piece of instrument.
The Look
The Yamaha P45 isn't the prettiest digital piano out there. But it's still easy on the eyes with a simple and 'get to the point' exterior.
The frame is made of plastic with a matte finish.
As for color, it's the classic black and white. There is no other color you can choose for this particular model.
Music Rest
The music rest of the Yamaha P45 is designed with portability in mind.
It's super easy to put on and take off from the piano. After putting it on, the stand stays in place with minimal wobble.
It's big enough to display about two and half A4 sized paper side by side.
One feature that's missing is those clips that keeps the pages in place. However you almost never see that on an entry level digital piano.
Control
The control panel is extremely clean, with a power button, volume slide and a function button.
You change sound, turn on metronome and fine tune the instrument by combining the function button with one of the 88 piano keys.
One downside of this is that not all functions are labeled. There are labels above the keys for sounds and metronome settings.
However, if you are to fine tune the instrument, like for example, change the reverb setting, you will need to have the user Manuel at hand.
Keys
The 88 piano keys of the Yamaha P45 are made with plastic, which is very common on entry level digital pianos. Currently only on high end models would you see some or all keys made with wood.
The keys are well-built with minimum amount of wobbling.
One thing Yamaha could have done is to give the keys a matte finish.
Instead, these plastic keys are shiny and could cause slipping in a long practice session.
Size & Weight
Being a portable stage piano, the Yamaha P45 is very competitive when it comes to its size and weight.
It's 133 cm (52 inches) long, 30 cm (12 inches) deep and 16 cm (6 inches) high. It weights only 11.5 kg (24 lbs.), making it very easy to carry around.
KEY ACTION
---
The Yamaha P45 is equipped with 88 keys with Yamaha's Graded Hammer Standard GHS technology.
The keys are weighted with actual hammer in the mechanism and the weight is graded meaning the bass keys will feel heavier than the treble keys.
For en entry level digital piano, I have to say the key action of the Yamaha P45 is good.
It gives that realistic feeling like an acoustic piano.
Noise from key stroke are noticeable however much softer compare to other entry level digital pianos. The touch sensitivity is adjustable to fit your need. We'll discuss that in the feature section of this review.
One downside of the key action is that it uses only two sensors. This makes it harder to play fast repeated notes and also harder to control the sound while doing so.
Key action with two sensors means that it has longer travel distance for the key to make a sound when repeating.
SOUND
---
There are two piano sound on the Yamaha P45. Each has its own characteristics. I like to use piano 1 for classical music and piano 2 for pop.
The sound is recorded on 10 different timbre level, meaning that you can get 10 different tone color from the same key depending on how hard that key is being played.
For an entry level digital piano, there is no complaint when it comes to sound.
There are several instrument sounds other than piano sound. You can find a list of these in the features section below.
When it comes to sound, one has to discuss the speakers.
That's where I found the Yamaha P45 lacking. Because there are only two 6 watt speakers in this digital piano and they don't produce the best sound quality.
The speakers sound weak and thin.
I highly recommend using a headphone or connect some external monitor/speaker with this instrument.
You can fine tune the sound by changing the reverb setting, which you will need to have the user Manuel at hand.
The effect though is quite satisfactory and significant.
You can clearly feel the difference from a more intimate playing experience to a performing in a music hall experience.
FEATURES
---
Being an entry level piano at this price point, you wouldn't expect too much on the features. The Yamaha P45 comes with limited Polyphony of only 64. There is no Bluetooth, no internal recording, nor battery power capability. This is the area where you can see the old age of this model.
Here is a list of the features you can find on the Yamaha P45:
Sound:

2 Grand pianos
2 Electric pianos
2 Pipe organs
2 Harpsichords
Strings
Vibraphone

Polyphony: 64
Key sensitivity:

Fixed: turns off key sensitivity
Soft
Medium (default)
Hard

Reverb settings (each with 10 levels):
Modes:

Dual mode: two instrument sound simultaneously
Duo mode: split the keyboard to identical halfs

10 Demo songs and 10 piano songs
USB to Host port
ACCESSORIES
---
The Yamaha P45 comes with power adapter, music sheet stand and a sustain pedal.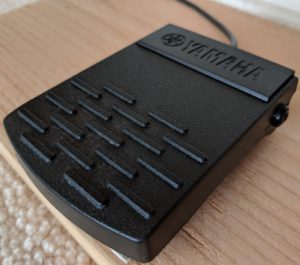 You will need to buy a stand for it and possibly a bench.
The sustain pedal does its job however does not feel like a real pedal and there's no way to hold it in place other than tape/glue it on the floor.
It's also a binary pedal, meaning it's either on or off, doesn't have the half pedal function.
A good pair of headphones is also needed if you want to fully utilize the benefit of a digital piano.
If you plan to perform on stage or for your family and friends at home, you will want to connect the P45 to a speaker system or studio monitors.
WHO IT'S FOR
---
The Yamaha P45 is strictly for beginners on a budget.
It has all the features and a good key action to develop your skills in the early stage of your learning process.
It's also perfect for people who want to give piano a try but are not sure if that passion would persist. With its low price, you won't lose much if you give up somewhere down the road.
Unfortunately, I can not recommend the Yamaha P45 for players above the intermediate level.
Two crucial reasons are the limited polyphony and the duo sensor used in the key action.
A limited polyphony will make it very difficult to play more complex classical pieces because any sound older than the last 64 will just be cut off.
Duo sensor makes it hard to play repeated note fast and with control.
Both downsides are unlikely to impact beginners. But as you improve your skills, it will become frustrating at times.
CONCLUSION
---
Couple years after its launch, the Yamaha P45 is still considered by many the best keyboard for piano beginners.
I personally own this piano and I am very happy with its performance, for the price of course.
However, I would not purchase the P45 in 2020. There are so many budget friendly model on the market that provide much more than this five years old model.
PRICE AND AVAILABILITY
---
OTHER OPTIONS
---
Yamaha P45 vs. Casio PX-160
Even though it's an entry level digital piano, the P45 still taxes you a lot for the Yamaha brand. One of its competitors, the Casio PX-160 offers much more value for the price.
Yes, the Casio PX-160 is a little bit more expensive then the Yamaha P45. But you get a much more advanced key action. The one on the PX-160 is a triple sensored action compare to P45's dual sensored. The keys on the PX-160 also feature Ivory/Ebony key tops, which is quite useful to help with grip and moisture absorption during long playing sessions.
The Casio PX-160 has double the amount of polyphony number (128) when compared with the Yamaha P45 (64). It also has internal recording function that I for one can not live without.
Overall, if you can stretch your budget a little, I strongly recommend the Casio PX-160 over the Yamaha P45. For an entry level instrument, the brand premium is simply not worth it.
---
Yamaha P45 vs. Korg B1
Another popular competitor of the Yamaha P45 is Korg B1. They are at similar price range and offer more or less the same value.
Playing experience is somewhat equal on the two instrument. Quality of their sound engines are also on bar with each other.
However the Korg B1 does have a better speaker system. It's still somewhat weak but performs much better than the speakers on the Yamaha P45.
Neither of the two has internal recording function. Nor do they have Ivory/Ebony key tops. But the Yamaha P45 does have more sounds and internal songs to choose from. It also feature a USB jack, that Korg B1 doesn't have.
One significant advantage of the Korg B1 is the sustain pedal. Unlike the foot-switch with the P45, the Korg B1 gives you a proper piano pedal with half pedaling support. This alone would encourage me to lean more towards the Korg B1.
---
Yamaha P45 vs. Roland FP-10
To respond to the budget level market segment, Roland has launched the FP-10. Basically, it's a strip down version of their popular FP-30.
You would get the exact same key action and sound of the FP-30, which are the most important aspects of any piano. I have to say, the Roland FP-10 performs better in both area compare to the P45. The keys are a lot more expressive and the sound much more detailed.
Same like the P45, the FP-10 is also minimal in terms of features. It doesn't have any internal recording capability either, just like the P45. But the FP-10 provides a much better polyphony number of 96, compare to P45's 64. And it has Bluetooth.
Overall, the FP-10 from Roland is simply better in many ways and I would recommend it over the P45.
---
Leave a comment to let me know what you think of this review. And if you happen to have some experience with the Yamaha P45, please share with us in the comment below.