The Casio PX-770 is currently one of the most affordable digital pianos with a furniture-style cabinet. We have reviewed and really liked its bigger brother PX-870. Does that make the PX-770 no longer attractive in today's market? Find out in this Casio PX-770 review.
DESIGN
---
The Look
The design of The Casio PX-770 looks decent. It has a cabinet with wooden texture that looks premium and classic. However, if you put the PX-770 right next to the PX-870, it's clear that the PX-770 is a cut down version of the PX-870.
As for the color, the Casio PX-770 has three different colors black, brown, and white.
The Casio PX-770 comes with a built-in sliding cover that will protect the keyboard from the dust.
The PX-770 is easy to put together. All you need is a screwdriver, and you will be done in just an hour. But do make sure you have help since it's a two men job.
Music Rest
The Casio PX-770 comes with a detachable music rest. I have to admit, I'm not a big fan of it.
The music rest is plastic. It doesn't really look that premium on the piano. It has overall a matt surface, however, there are two distinct half circles at the bottom of the music rest. I'm not sure if that's a manufacture necessity or a design choice. But if you ask me, they are ugly.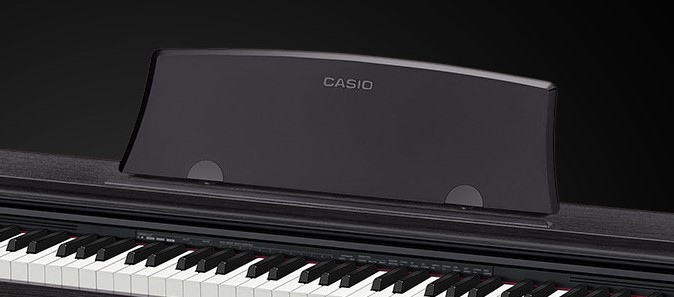 Luckily, the music rest functions well. It's both tall and wide enough to support any music book and printed sheet music.
It does offer a strong and stable support. I have not noticed any wobble with the music rest once attached to the piano. Although plastic, it appears to be well-built.
Control
The controls of PX-770 place on the left side of the keyboard that gives the piano a much cleaner and less cluttered appearance.
PX-770 has 8 buttons a Grand piano, e.piano, functions (MIDI recorder, metronome), a power button, and a volume knob. Each button has a little indicator light next to it.
You'll need to press one of the keys while holding the Function button to access most of the functions and settings.
There are little labels above the keys that will help you understand which keys are used for which settings.
The combination can be found in the owner's manual.
However, there is a downside with the PX-770 and that is it doesn't come with an LCD, so it will be hard to know what sound is active.
Even though this piano doesn't have a display, it is still quite easy to navigate the piano.
You will hear a beep sound whenever you change the settings.
Keys
The PX-770 features 88-key fully weighted keyboard, and it has red velvet at the end of the keys to give it a classical look.
This piano is simulated with Ivory & Ebony key surfaces, which helps to absorb moisture and aid control.
Size And Weight
The PX-770 weighs around 69.45 lbs (31.5 kg) when fully assembled, and the dimension is around 54.76″ x 11.77″ x 31.42″ (139 x 30 x 80 cm).
KEY ACTION
---
The Casio PX-770 is weighted with the Tri-Sensor II Scaled Hammer Action that creates a mechanical movement and feels similar to an acoustic piano.
The Scaled Hammer action simulates the feel of an acoustic piano where the keys become gradually lighter as you go up the keyboard and heavier in the lower registers.
Also, Casio PX-770 has a triple sensor detection system that can detect touches of the keys, allowing for faster note repetition.
Not just that, the keys are also touch-sensitive, were the volume will change depending on how hard or soft you play.
With this piano, you can adjust the level of touch sensitivity out of 3 preset settings.
Like for example, you will get the broadest dynamic range when you select the 3rd setting, and you can play from the soft pianissimo passage right through to the thunderous fortissimo.
SOUND
---
The PX-770 uses the Multi-dimensional Morphing AiR that increased memory capacity, allowing for better quality samples and even more accurate sound.
The PX-770 has an upgraded Grand Piano that features damper resonance and damper noise. The PX-870 has a few more simulated details when it comes to sound. The one that I miss the most is the String Resonance.
Besides the grand piano, you will also get electric pianos, vibraphone, harpsichord, organs, strings, and all the essentials instrument sounds.
The PX-770 has a total of 19 different sounds: 5 Grand Pianos (Concert, Mellow, Bright, Modern, Rock, Jazz), 4 Electric Pianos, 4 Organs (Pipe, Jazz, 2 Electric Organs), 2 Strings, Harpsichord, Vibraphone, and Bass (Lower).
The PX-770 doesn't have a Hall Simulator function like the PX-870 does.
However, you can still use the chorus and reverb effects to tailor the sound to your taste.
The PX-770 has 4 types of reverb where you can use to simulate the acoustics of a Room, Small Hall, Large Hall, or Stadium making the sound bigger and lusher.
The chorus effect will make the sound fuller by adding various tone and pitch variations to the notes you play.
The PX-770 has 128-note polyphony. It's not as impressive as the 256 on the PX-870, but I think it's good enough for most of your musical need.
The PX-770 has a 2x 12cm speaker with 2 x 8W amplifiers at the bottom of the keyboard.
The speakers are excellent, and it produces a sound that is loud enough for casual playing or small performances in a living room. The overall sound experience does lack a bit in the details. But it's hard to say if it's the speakers or the lacking of simulators, like the string resonance.
FEATURES
---
The PX-770 has two 1/4 stereo jacks where you can use it to connect up to 2 headphones.
You can also connect your external amplifier or a PA system on those jacks for sound reinforcement.
The PX-770 also has a USB type B port where you can connect the piano to your computer for exchanging MIDI data, files, etc.
There are a lot of music apps on the web for both Windows and Mac OS that you can use it to expand the capabilities of the PX-770 in terms of music recording, editing, and learning.
Speaking of App, Casio has an app called the Chordana app.
The app is available for both iOS and Android.
With this app, you can control numerous settings of the instrument using an intuitive on-screen interface.
The app includes 198 built-in songs that you can practice at your own tempo, visually checking the keys you need to play next.
The Casio PX-770 also comes with an integrated stand and a triple pedal unit .
The 3 pedals simulate the functionality of sustain, soft, and sostenuto pedals on an acoustic piano.
Now the PX-770 has 2 versatile modes a Dual Mode and a Split Mode.
These modes allow you to use several sounds in your performances as well as a four-hand mode for two people who wants to play the piano simultaneously.
The Dual Mode allows two different sounds to be played together and creates a more complex and atmospheric sound.
Like for example, an acoustic piano layered with a string ensemble would be a beautiful combination.
Also, You can layer any of the 19 sounds except for the Bass sound.
This piano has a layer balance where it allows you to adjust the volume of each tone, making one more dominant than the other.
The Split Mode will split the keyboard into two parts to which you can assign a different sound.
Like for example the left-hand section, you can select only the Bass sound, and for the right-hand one, you can choose any sound you like.
There is also another feature called Duet Play. Teachers often use this feature during lessons with their students.
It splits the keyboard into two parts with the same pitch range so that the two of you can sit together and play the same notes at the same time as if two pianos were being used.
The PX-770 has another feature called Concert Play. It allows you to play along with the recordings of a live orchestra.
The Concert Play has 10 tunes, and each tune consists of 2 parts the piano part and an orchestra part.
The first thing you need to do is to listen to the tunes and familiarize them so that you know what you're going to play.
Then you can practise the piano part of the Concert Play.
You can also play the piano part with the orchestral accompaniment turned on.
The sound of it is amazing, considering these are real orchestra recordings.
This piano has a built int Media Library with 60 different piano songs, and you can use them in the same way as Concert Play songs.
It means that you can listen to them, separately practice each hand part, change the tempo, etc.
You can also load up to 10 User songs (MIDI) from your computer into the PX-770, and they will appear in the Media Library as 61-70 songs.
The PX-770 has a 2-track MIDI recording, where you can record up to two tracks, which can be played back together as one song.
Like for example, you can record the right-hand part of a piece on track one and the left-hand part on track two, while listening to the playback of the first track.
You can also record different instrument parts to each track and create complex multi-instrument songs.
If you want to practice both of your hands separately, you can turn off one of the tracks and play it live while the other track will be played back.
However you can only record up to one song on the PX-770.
The downside is that the PX-770 doesn't have an audio recorder, which allows you to record the sound of the instrument (rather than a sequence of notes in case of a MIDI recording).
Now there are three functions on the piano where you can adjust the pitch of the instrument, and those functions are Transpose, Tuning, and Octave shift functions.
The Transpose function allows you to shift the pitch of the keyboard up and down in semitone steps.
Also, you will be able to hear a song in another key, playing it in the original key.
You can also transpose a song into a different key without affecting the melody itself. It's like you're playing the original key.
As for the Tunning function, this function allows you to adjust the overall pitch of the keyboard in 0.1Hz steps from the standard A440 tuning.
You can also use this function to match the PX-770's pitch finely to that of other instruments or music.
The Octave shift function is where it lets you change the pitch of the piano in steps of an octave.
Here is the list of features that the PX770 have:
Tones Sound Source:
Multi-dimensional Morphing AiR
Polyphony (maximum) : 128
Number of Built-in Tones: 19
Simulator:
Hammer Response, Damper Resonance, Damper Noise – (ON / OFF)
Digital Effects Hall Simulator / Reverb – 4 (Reverb), Chorus – 4, Brilliance – (-3 ~ 0 ~ 3), DSP – (Preset for some tones)
Songs:
Concert Play – 10 songs, Controller – Start / Stop, Mode – Listen / Lesson / Play, Music Library – 60 Songs, Song Expansion (User Songs) – 10 songs (max.) Up to approximately 90 KB / song
Additional Features:
Connection to app, Lesson Function – Part ON / OFF, Lesson Part Select – Right hand, Left hand, MIDI Recorder – 2 tracks, 1 song, Approximate Data Capacity – Approximately 5,000 notes total, Duet Mode, Octave Shift – ±2 octaves, Metronome – 0 to 9 beats; tempo range: 20 to 255, Pedals – 3 built-in pedals (damper, soft, sostenuto)
Key Transpose: 2 octaves (-12 semitones ~ 0 ~ +12 semitones)
Tuning Control: A4 = 415.5 Hz ~ 440.0 Hz ~ 465.9 Hz
Number of Preset Temperaments: 17
Others: GRAND PIANO 1 button ・ELEC PIANO button ・Slide-type keyboard, cover ・Auto Power Off Off after approx. 4 idle hours (default setting)
Connectivity and Storage: PHONES/OUTPUT, Connector for 3-Pedal Unit, USB TO HOST
ACCESSORIES
---
As a upright style digital piano, the Casio PX-770 basically has everything you need. The music rest is included and you get the standard three pedal unit as well.
Depends on the bundle, you might need to purchase a separate piano bench.
As always, a pair of high quality headphones is recommended for any digital piano.
WHO IT'S FOR
---
The PX-770 is excellent for both beginners and intermediate players alike.
Whether you are a beginner or intermediate player, the PX-770 is a perfect choice if you like a cabinet-style digital piano with three pedals and a natural feel but have a limited budget.
This piano is also suitable for teachers as you can see, this piano has a dual-mode and a split mode where you can both play together on different sides of the piano.
Also, this piano has an app called the Chordana app. This app is available for both iOS and Android devices.
With this app, you can control various settings of the instrument using an intuitive on-screen interface.
Also, the app includes 198 built-in songs that you can practice at your tempo, visually checking the keys you need to play next.
CONCLUSION
---
The PX-770 is great and compares it to other famous pianos at this price. I can say that this piano is worth buying.
With its hammer action keyboard, along with an upgraded grand piano sound and 128-note polyphony, are the main reason that makes the PX-770 a fairly realistic alternative to a traditional instrument.
Also, you get a comprehensive set of features that will help you learn and add more fun to your playing.
What I like about the PX-770 is that it is equipped with 19 high-quality sounds, 50 built-in songs, lesson function, MIDI recorder, and more.
And the PX-770 comes with a stand or a triple pedal bar separately, which will save you money.
Also, the cabinet design, the sound the onboard speakers are more profound and more significant compared to other portable pianos without a furniture-style cabinet.
So all in all, if you're buying a digital piano for home and you're in a tight budget, the Casio PX-770 is a strong option to consider.
PRICE AND AVAILABILITY
---
---
Leave a comment to let me know what you think of this review. And if you happen to have some experience with the Casio PX-770, please share with us in the comment below.