Flagship models are usually the best that a manufacture can offer in a product line. They are usual premium and expensive. If you want to get the best value of your dollars, flagship models are not the usual recommendations I would give. But the PX-870 is an exception. In this Casio PX-870 review, I want to show you the amazing value you get with this flagship model.
Casio is one of the leading brands that manufacture digital pianos in the world. They offer you their best key action and sound engine across their product line. You always get the best Casio can offer.
I get asked a lot for digital pianos under $1,000. It seems that's the magic number for many and there are some good models on the market at that price range. These are usually considered entry level models. For most manufacturers, you don't get their best technology on their entry level models. But it's not the case when it comes to the Casio PX-870.
DESIGN
---
The Look
Casio PX-870 has got an outstanding design, which makes it match perfectly well with your home furnishings. It adopts the modern minimalism design and look much slimmer and stylish compare to its predecessor the PX-860.
The color choices are simple, black and white. They both look elegant and they both have the wooden texture finish, which gives the Casio PX-870 also a premium look.
The sliding key cover has matching color and texture. So the piano looks great even when the keys are covered.
Overall, I'm impressed with the look of PX-870. Especially comparing to the PX-860, you can clearly see the upgrade.
Music rest
The music rest on the PX-870 follows the style of the instrument and looks slim and modern.
It is pretty wide and can hold about three pages simultaneously.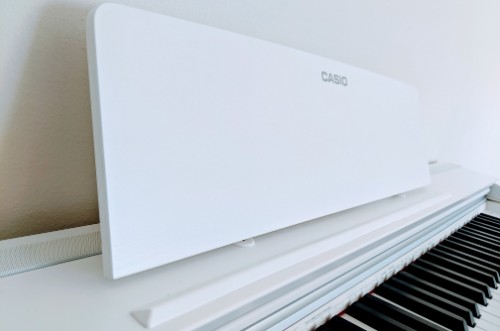 But like many of its competitors, the music rest is not tall enough to hold printed sheet music. More often than not, the A4 paper would just fold its upper half over the music rest. It's detachable but you can not fold it or adjust the angle.
Control
The control panel of the PX-870 is on the left side. The layout is pretty clean and easy to use.
Volume is controlled by a knob. Would be nice if there are markings around the knob for more precise control. And I always prefer a slider than a knob.
More detailed controls can be done through a combination of buttons and keys. They are well labeled above the keys.
It's nice to have indicators for some functions, like recording and playback.
But some indicators are unnecessary and all they do is provide distractions while playing the instrument. For example, I don't need a light to tell me that I'm in grand piano mode. I can certainly hear it.
Overall the control panel does its job and it's kind of clean. Although, I'd like to see a more minimalism design of it.
Keys
The PX-870 comes with a full 88 keyboard. The keys are plastic with synthetic ivory/ebony surface, like many of its competitors at this price range. Overall, they do still look and feel plastic.
What's different about the keys of PX-870 is that these synthetic textures are a lot more prominent. Making them significantly better for grip and moisture absorption comparing to similar keyboards at the same price range.
There is a line of red velvet at the end of the keys that simulates a classical look of the instrument and gives it a premium feel.
There are some noticeable uneven space between the keys. It's not a major issue and it does not affect playing experience at all.
Size & Weight
The Casio PX-870 is compact in size. It weighs around 34.5 kg (76 lbs).
After assemble, it has the dimensions of 139 x 30 x 80 cm (54.8″ x 11.7″ x 31.5″)
KEY ACTION
---
The Casio PX-870 use the famous Tri-Sensor II Scaled Hammer Action that is identical to the one equipped on the PX-860. This key action has been praised by many and it's well-received by the consumers. It is one of the best key actions you can find under $1,000.
Actual hammers are being used in the mechanism to simulate the feeling of an acoustic piano. Each hammer has been individually weighted for the entire keyboard.
The triple sensor setup ensures fast and responsive playing experience. It also makes it easier to repeat notes quickly.
SOUND
---
This is another area where we see a big upgrade from the previous PX-860. The PX-870 uses Casio's AiR Sound Source, which provides realistic sound sample from concert grand acoustic piano.
Most importantly, the PX-870 has a four-layer grand piano tone that separate itself apart from it's predecessor as well as its competitors.
The sound engine also includes damper resonance, string resonance, key off simulation, adjustable hammer response, and a lid simulator with four positions. You really don't get much than that at this price range.
The speaker system has also been upgraded from the PX-860.
It uses Casio's new Sound Projection system, which consists of two 20W amplifier firing 4 speakers in two different directions. It is the most sophisticated sound system I've ever seen under $1,000.
The PX-870 is loud enough to fill a really large room and it produces an amazing and dynamic piano sound, both to the listeners around the room and to the player.
One thing I've noticed is the boomed base notes through the speakers. It's a quite common issue for digital pianos at this price range but the PX-870 seems to have it the worst. When I turn the volume to maximum, it's almost impossible to play because the base is simply too powerful. It gets much better the further away you are from the piano.
FEATURES
---
Unlike many of its competitors at this price range, the Casio PX-870 focuses on the piano experience and allocate it's resources on features that actually matters.
These include but not limited to the amazing 256 Polyphony and the adjustments on every aspect of the sound engine as well as the quite unique WAV recording capability.
Below you will find a list of its main features.
Sound:

Grand pianos x 5

Concert
Mellow
Bright
Modern
Rock
Jazz

Electric pianos x 4
Organs x 4
Harpsichords
Strings x 2
Vibraphone
Bass

Polyphony: 256
Key sensitivity: 3 levels + off
Reverb settings:

Dutch Church
Standard Hall
Berlin Hall
French Cathedral

Damper resonance: 4 levels
Brilliance: -3~+3
String Resonance: 4 levels
Lid Simulator: 4 levels
Hammer Response: 4 levels
Key Action Noise: ON / OFF
Damper Noise: ON / OFF
Modes:

Dual mode: two instrument sound simultaneously
Split mode: split the keyboard to two different instruments
Duet mode: divide the keyboard to identical halfs

Recording MIDI: 1 song, 2 tracks
Recording WAV: 99 songs
Connectivity:

2 Headphone jacks (also work as Line Out): on the front side
USB to host
USB to device (memory stick for recordings and phone/tablet for APP)
ACCESSORIES
---
The Casio PX-870 has three pedals: damper, soft, sostenuto.
The damper pedal supports half pedaling, which gives the ability to control the sound in many subtle ways.
You will find some other accessories provided along with Casio PX-870. They include AC adapter, a score book, user manual and the music rest.
Furthermore, depends on your local dealer, you might find bundles that include a bench and possibly a headphone.
There isn't much you need to pair with the Casio PX-870.
Its amazing sound system means you don't need external speaker/monitor.
The only extra purchase you would probably need to make is a good pair of headphones.
WHO IT'S FOR
---
Just like its predecessor, the Casio PX-870 is a perfect fit for both beginners and intermediate piano players at the price range.
When it comes to piano play experience, the PX-870 offers many features that you normally only find in more expensive models.
The Casio PX-870 is highly focused on piano play. So if you are looking for features like tons of other instrument voices, drum rhythms or automatic chords, you need to look elsewhere.
CONCLUSION
---
The Casio PX-870 is one of the best digital piano you can buy under $1,000.
It has a slim and modern look, great key action, amazing sound engine and sophisticated speaker system.
If your main focus is piano play, and your budget is around $1,000, I would highly recommend the Casio PX-870.
PRICE AND AVAILABILITY
---
---
Leave a comment and let me know your thoughts on the Casio PX-870. If you have any experience with it, share in the comment below how it plays and sounds to you.